Toward our Second Century
Toward our
Second Century
Duke will forge purposeful partnerships with our neighbors in the region.
We will find new ways to use our educational and research resources to deepen and strengthen our relationships across the Carolinas, with particular focus on Durham. Through these partnerships, we can advance not just economic development but also community health, housing, and public education. And we will benefit from richer engagement with the Triangle's thriving research ecosystem, building a new research commercialization strategy and offering innovative learning opportunities for our students.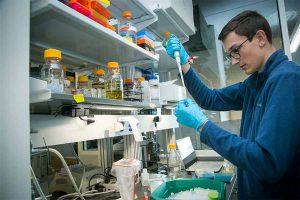 The Chesterfield
Before its abandonment two decades ago, the Chesterfield building in downtown Durham was one of the world's largest cigarette factories. In partnership with local developers, Duke has helped transform it into a top-of-the-line facility for biomedical and clinical research. This is only the latest example of Duke driving our regional renewal: from the American Tobacco Campus to the Innovation District, we are continuing to transform the Triangle into a world-renowned hub for innovation and research.
Duke Health
Duke Health provides nearly $100 million annually in donated health care services, the vast majority of which goes to patients from our seven surrounding counties. Looking ahead, we're investing in new population health strategies through the Healthy Durham initiative, which seeks to improve health and wellness and decrease the instance of preventable disease in the city we are proud to call home. Duke Health has always been one of our strongest connections to the region, and we will continue to find new ways to improve the lives of our immediate neighbors.
Supporting Traditional Crafts and Folk Arts in North Carolina
Duke has partnered with the North Carolina Arts Council to send student photographers to capture the stories of traditional and folk artists from across the state.
Toward our Second Century